On the Show Tonight: 4/3/14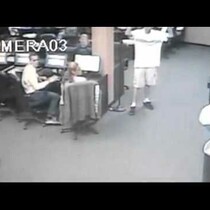 Posted April 3rd, 2014 @ 6:38pm
Lot of stuff to get to tonight, so let's start with a whole bunch of internet fun for you to murder your time with. Just drown your time in a bathtub......I feel like I've gone too far.
1) Let's start with this awesome video of an elderly gent who shoots some robbers at an internet cafe. I didn't realize internet cafes were still around? Either way, old man is THE man here.

2) I'm not going to lie, this next one is just intense, and it's not for the light hearted. A crazed arab drives a construction vehicle into a bunch of people, killing three and wounding at least 45, before he's shot dead by Israeli security forces.
3) Okay, how about something a little light? This is just badass, and I ain't afraid to say it. Gary Clark Jr. playing "Bright Lights" live.
4) Parents praise their 5-year old for praying when some.........person......at her kindergarten's lunch room told her it "wasn't good." Ridiculous.
5) This is a little much don't you think? Cop violently blindsides this woman. The real lesson here? Don't riot when your college loses.
6) This doesn't bode well for the Angels. Coach Don Baylor breaks his leg during the ceremonial first pitch.